This Combustor Maintenance Personnel Lifting Platform is a highly customized, single-person rated (300lbs) platform with a 26.25" OD multi-angle complex-shaped perimeter, 95" maximum overall height from ground to hook.
300 lb, 1-person maximum rated load capacity with an estimated platform weight of 378 lbs.

375 lb detachable test weight system.

Platform frame dimensions: 26.25″ O.D. width X 42" I.D. height. Not to exceed 95" overall height from ground to hook.

Frame built of 0.120″ wall, 1″ x 1.5" O.D. rectangular steel tubing with custom access gate

 ½" thick steel plate floor.

Inner grab rail,  fall arrest anchorage overhead tie-off.

Sides enclosed from toe board to mid-rail.

Single pick, offset, with custom lifting eye.

Perimeter shape to match existing platform/hatch.

Powder coat finish in red (test weight system in safety yellow).

Data Plates, Certificate of Compliance, 3-Year Warranty, Use and Safety Handbook, Training Video Access.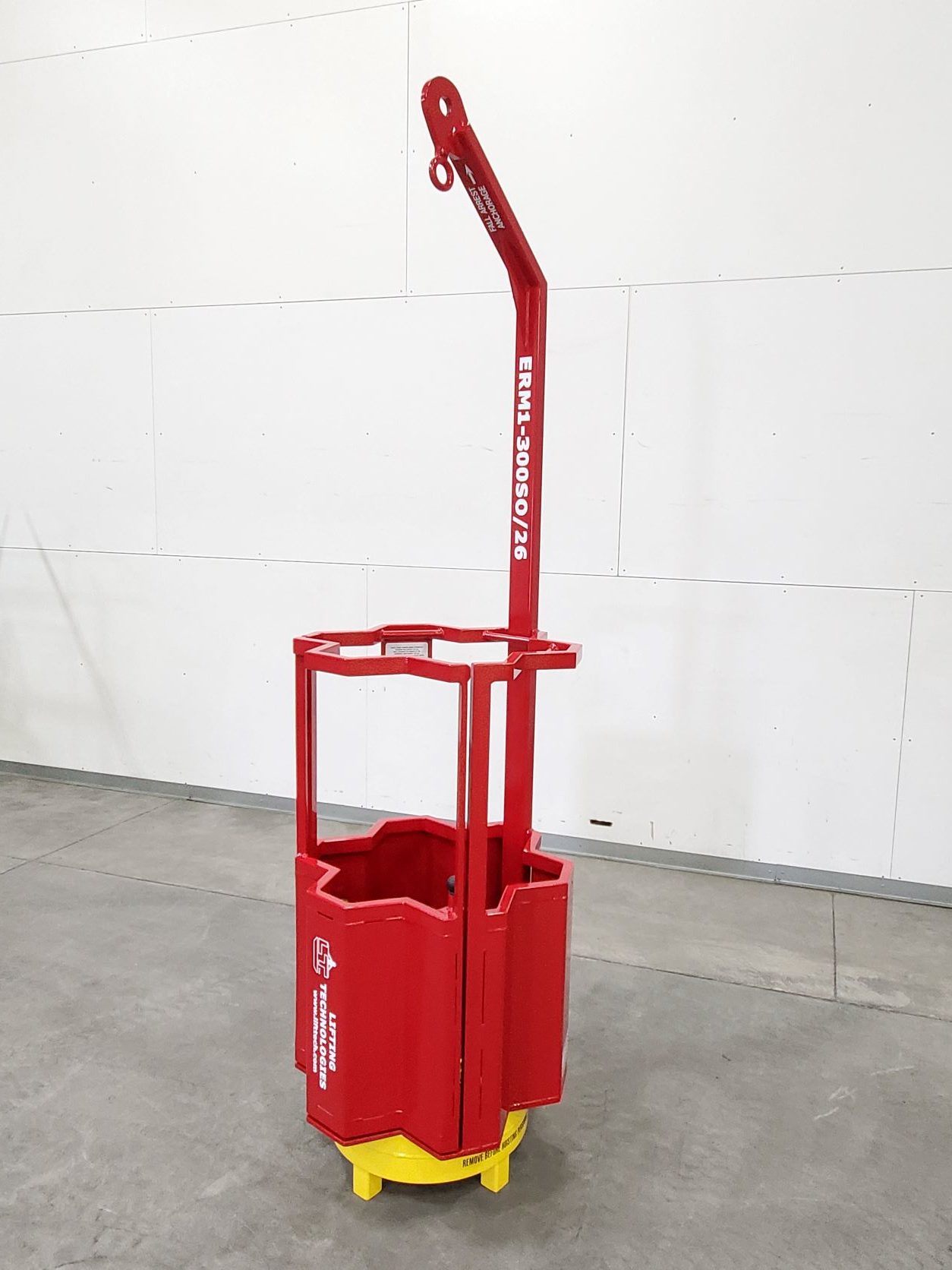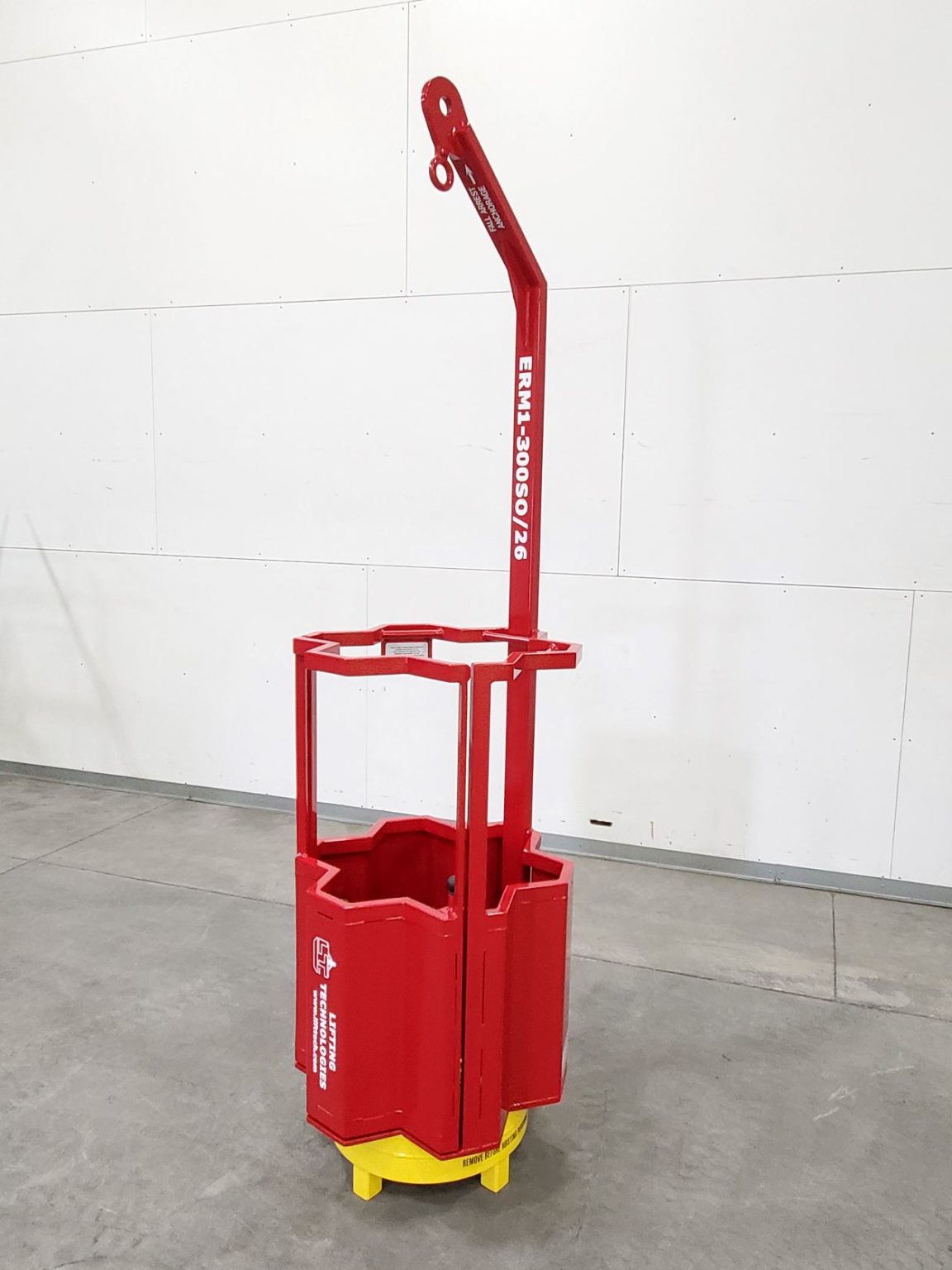 What was it created for? 
The existing OEM provided platform was out of compliance with OSHA 29 CFR Part 1926.1431 Hoisting Personnel standards. Therefore a new, fully compliant lifting platform was required for performing routine maintenance and outage maintenance on a gas-powered combustor in a power generation plant.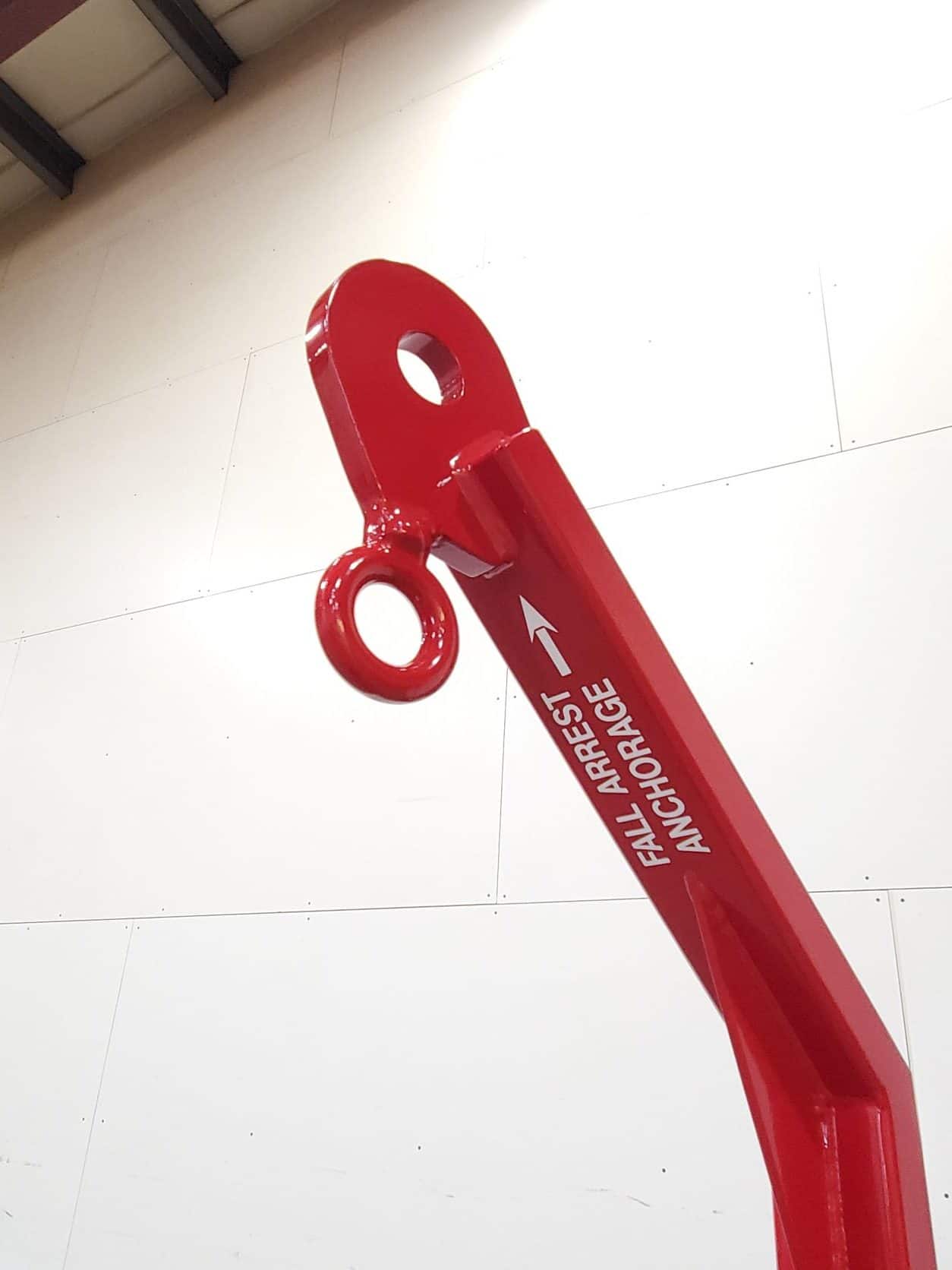 What can this platform do for your company? 
Similar customized platforms can be utilized in the energy and energy gas-powered generation sector to replace non-compliant lifting platforms. Lifting Technologies manufactures custom platforms for all industrial applications.
Is this platform safe? 
This custom ERM1-300SO/26 is built to OSHA 29 CFR Part 1926.1431 Hoisting Personnel standards, as are all LT's personnel hoisting platforms.
With properly designed and built specifications such as side enclosure, inner grab rail, fall protection anchorage, and detachable test weight system, the plant management and maintenance team are assured of a fully compliant and safe working environment.  
Lifting Technologies welding team is AWS certified and employs AWS D1.1 and AWS D14.1 weld specifications.
LT's engineering division designed and calculated the platform to full compliance, and the design was reviewed and stamped by an independent engineering firm for additional safety and quality of design.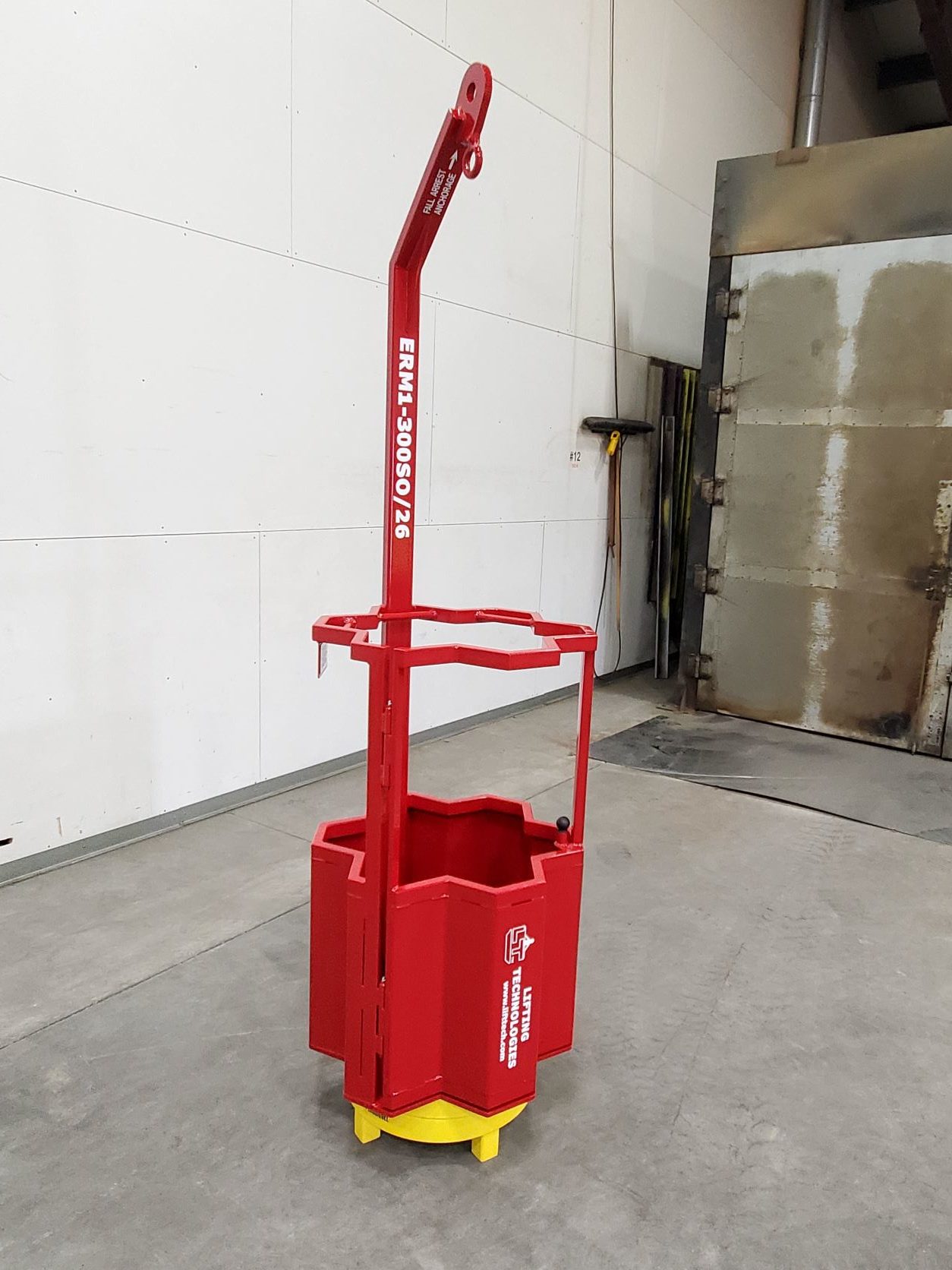 Why is this product popular within the business? 
This material lifting platform is popular because of its unique features: 
Lifting Technologies is the original manufacturer of OSHA compliant personnel hoisting platforms, and leverages this knowledge in the design and manufacturing of every platform.

This platform exhibits Lifting Technologies' exceptional craftsmanship.

LT is capable of handling complex designs and builds such as this custom shaped platform.

Our industry leading 3-year warranty and highly efficient test weight system combine to increase LT's focus on safety.  
Is this product custom-made? 
Due to the size and shape of the hatch this platform must access, the perimeter is precisely customized to allow for maximum interior space while fitting into the combustor hatch. 
In addition, the compact nature of the platform required a custom approach to the inner handrail, again to allow for maximum interior space for the person being hoisted. 
The custom offset single pick was chosen to assist with compact design,  calculated for balance, and designed within the overall height limitations. The lifting post provides an optimal anchoring point for safe and secure fall protection.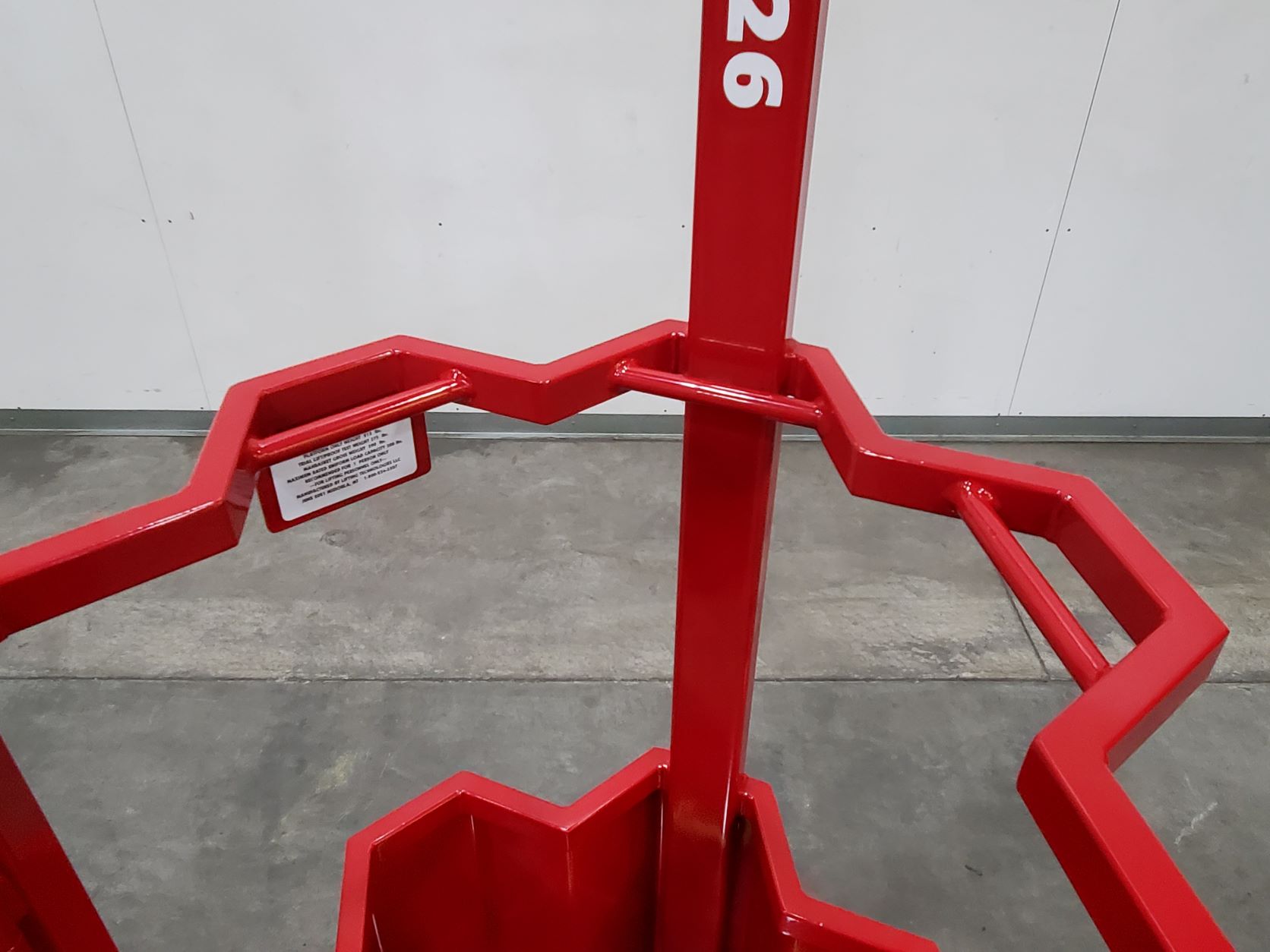 How can I request a quote for my Custom Combustor Maintenance Lifting Platform?
Lifting Technologies will create a custom combustor maintenance personnel lifting platform to suit the specific needs of your project.