Custom 5 Person Man Basket with Bumpers on All Sides
Premier model with the standard mastguard, security chains (for attachment to forklift for safety), tool tray and gate with pin system. Bumpers placed on all sides of this platform make it very unique.
Man: 5
Dimensions: 72" x 48".
1500lb capacity
Model: FL5-1500SOG F0519215, F0519225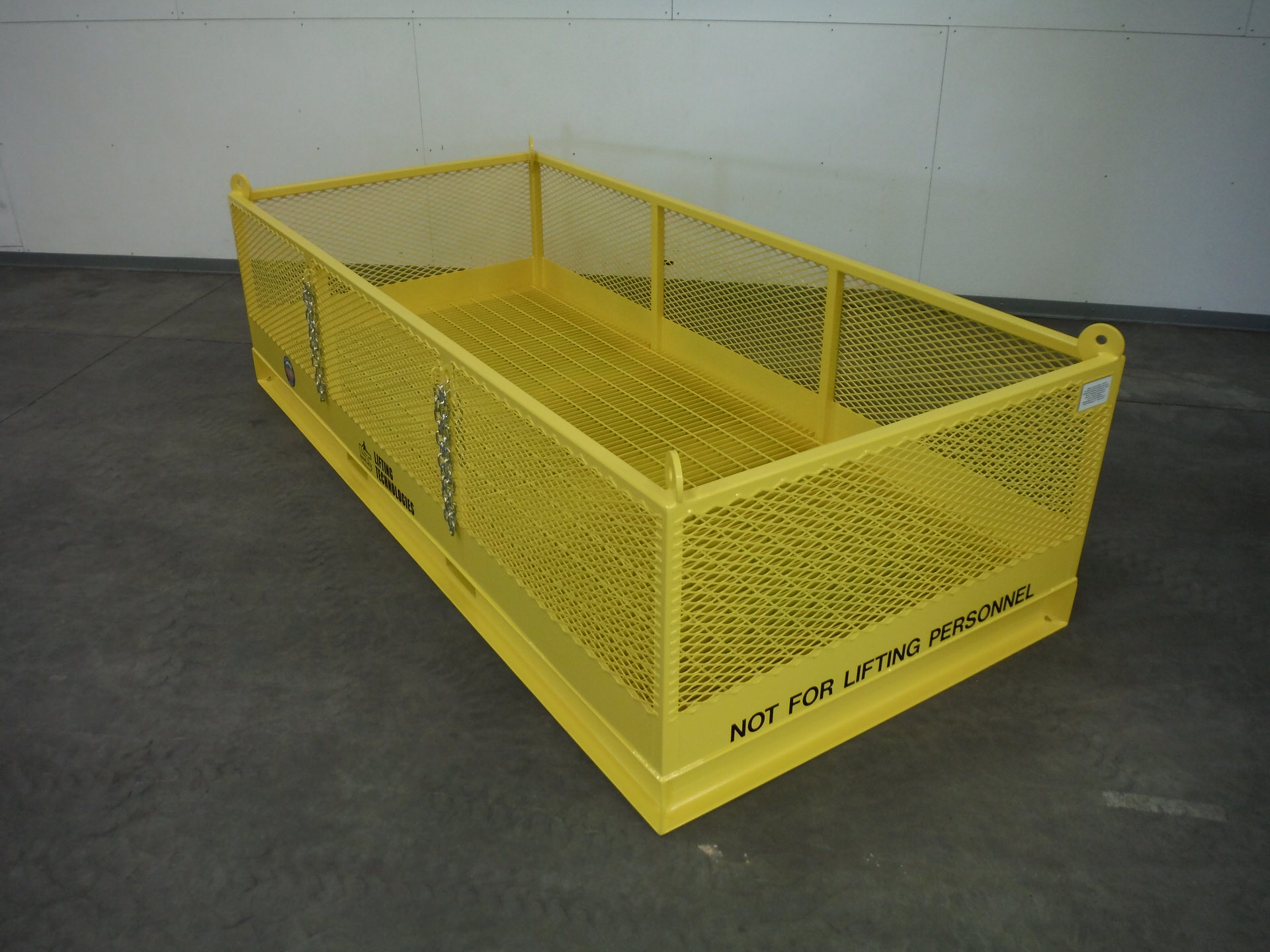 Custom Forklift Basket
1,000 lb capacity, Shipping to a paper mill in Shelby, NC
This can be used with a crane or forklift.
Custom Forklift Platform with Inner Grabrail
This platform is quite unique for a forklift platform. Two sides remove and the mastguard folds down. Has a tool tray and fork tubes along with the pin system to secure to platform. The inner grabrail is attached to the mastguard for safety tie off.
Man: 2
Dimensions: 48" x 72"
800 lbs capacity
Model: FL2-800SONQ F0919262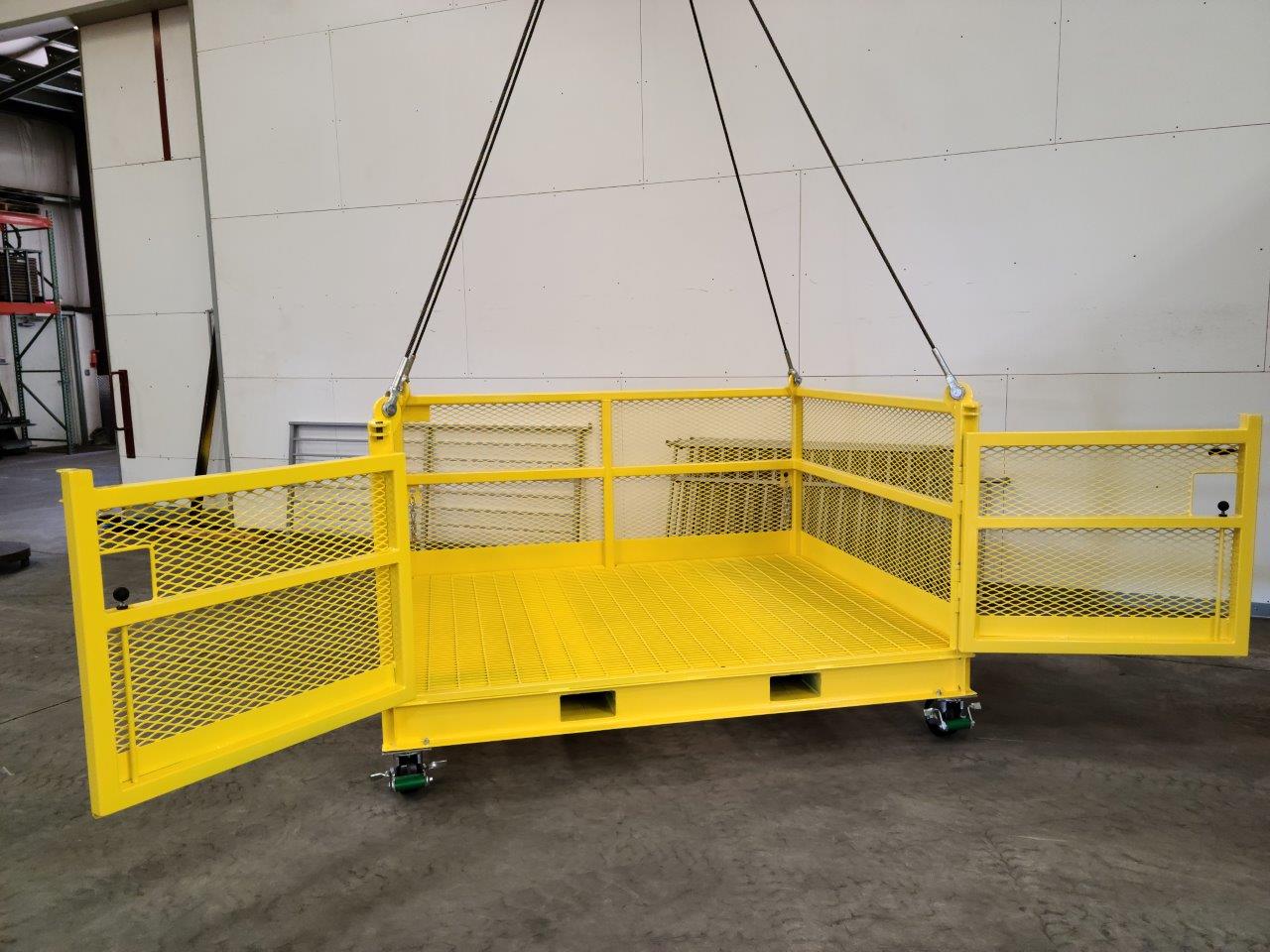 Custom Forklift with Dual Access
This platform has dual access gates with a removable bar to entry access. The removable bar is in place for structural integrity due to the width. It has fork tubes and a sling for hoisting with a crane or forklift on the ground. It also has 4 heavy duty casters that swivel and lock.
Dimensions: 84" x 72" x 36"
4,000 lb capacity.
Model: MB-4000 082021M

Custom Forklift with Mastguard and Rubber Bumpers
This platform has the quick claw safety system with rubber bumpers on three sides of the platform. It has one tool tray, fork tubes and no
enclosures except on the mastguard side. The mastguard ends at guardrail height.
Dimensions: 72" x 48"
1500 lb capacity.
Model: FL5-1500SOG F0615485, F0615495

Custom Forklift with One End Access
Custom forklift platform with tool tray and access bar opening on one end.
Dimensions: 48" X 96"
1600 lbs capacity
Model: EFL4-1600SO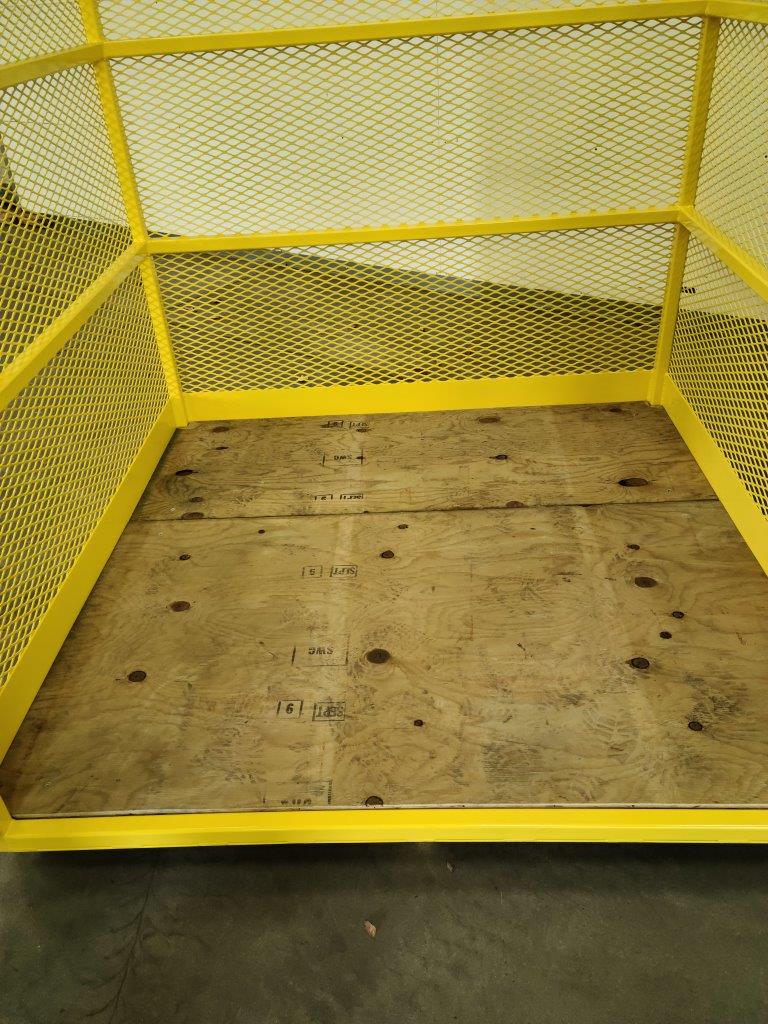 Custom Forklift with Plywood Flooring
This platform can be hoisted with a crane and has skids on the bottom to be moved by forklift of the ground. It has a gate and has plywood bolted down on the floor.
Dimensions: 63" x 63" x 63"
3350 lb capacity
Model: MB-3350 092029M 092030M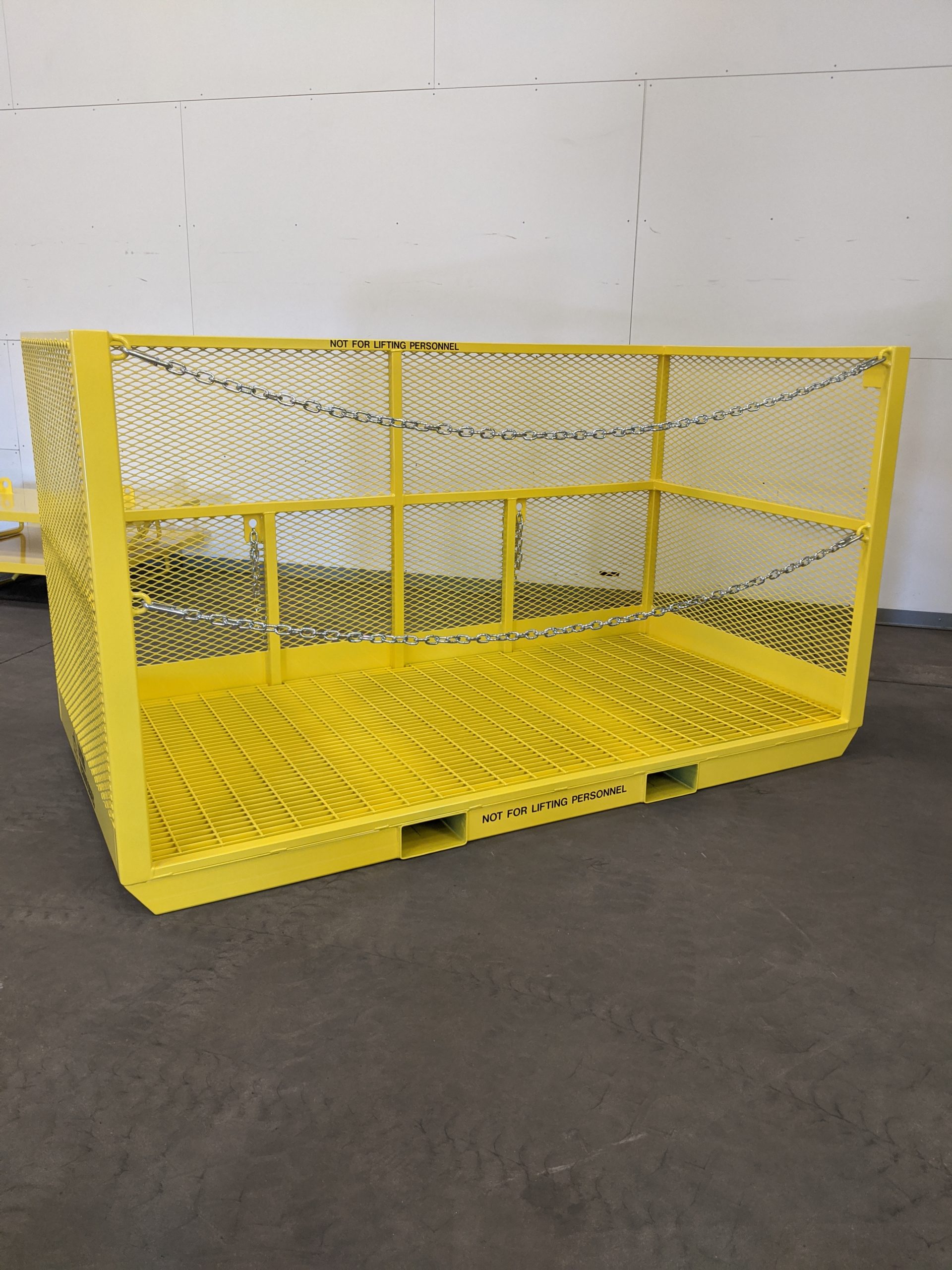 Custom Material Forklift Only Basket
Material handling platform to be used with a forklift only. It only has three sides enclosed with chains across for access opening. It is the pin system for easy release from forklift on any surface.
Dimensions: 96" x 48" x 48
2,000 lb capacity
Model: MB-2000FL 082023M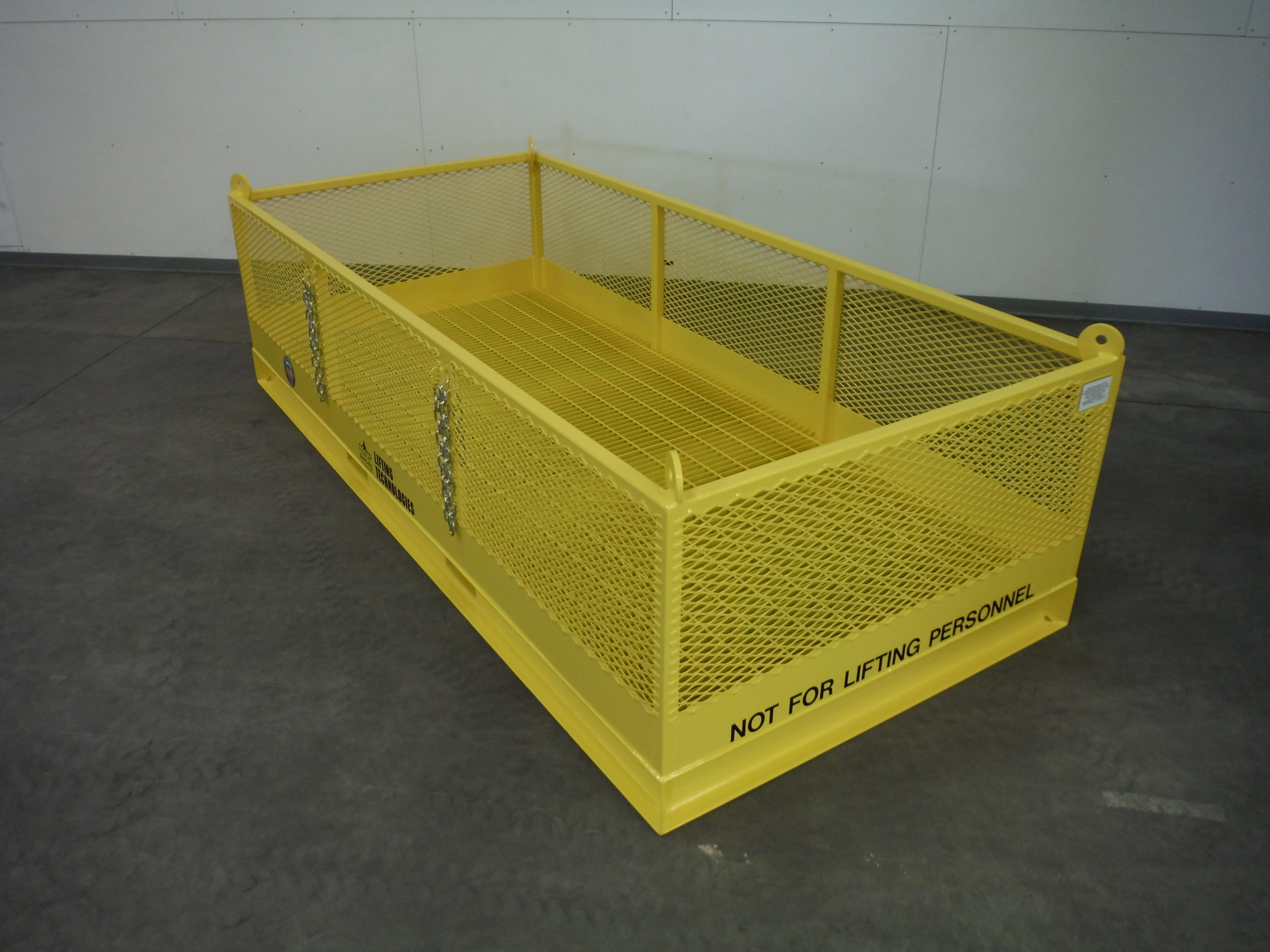 Custom Material Handling Platform
This material basket can be used with either a crane or forklift.
1,000 lbs capacity
Model: MB-1000 06201M

Custom Matte Black Forklift Platform
Painted in matte black with special reflective decals. Other unique features: there are no enclosures and no mastguard. It has a tool tray with grating floor. It has a pin system to attach to the forklift instead of the quick claw system. This system is better when being used on a surface that is not solid.
Dimensions: 84" x 36"
500 lb capacity
Model: FL3-1200SOGNQ F0119173

Custom Professional Forklift with Gate
This is a professional model platform with a tool tray. The professional normally does not come with a gate, this one did. The other unique thing about it is a Lexan Panel from the grabrail to top of mastguard.
Man: 1
Dimensions: 40" x 36"
400 lb capacity.
Model: EFL1-400SOG EF0518581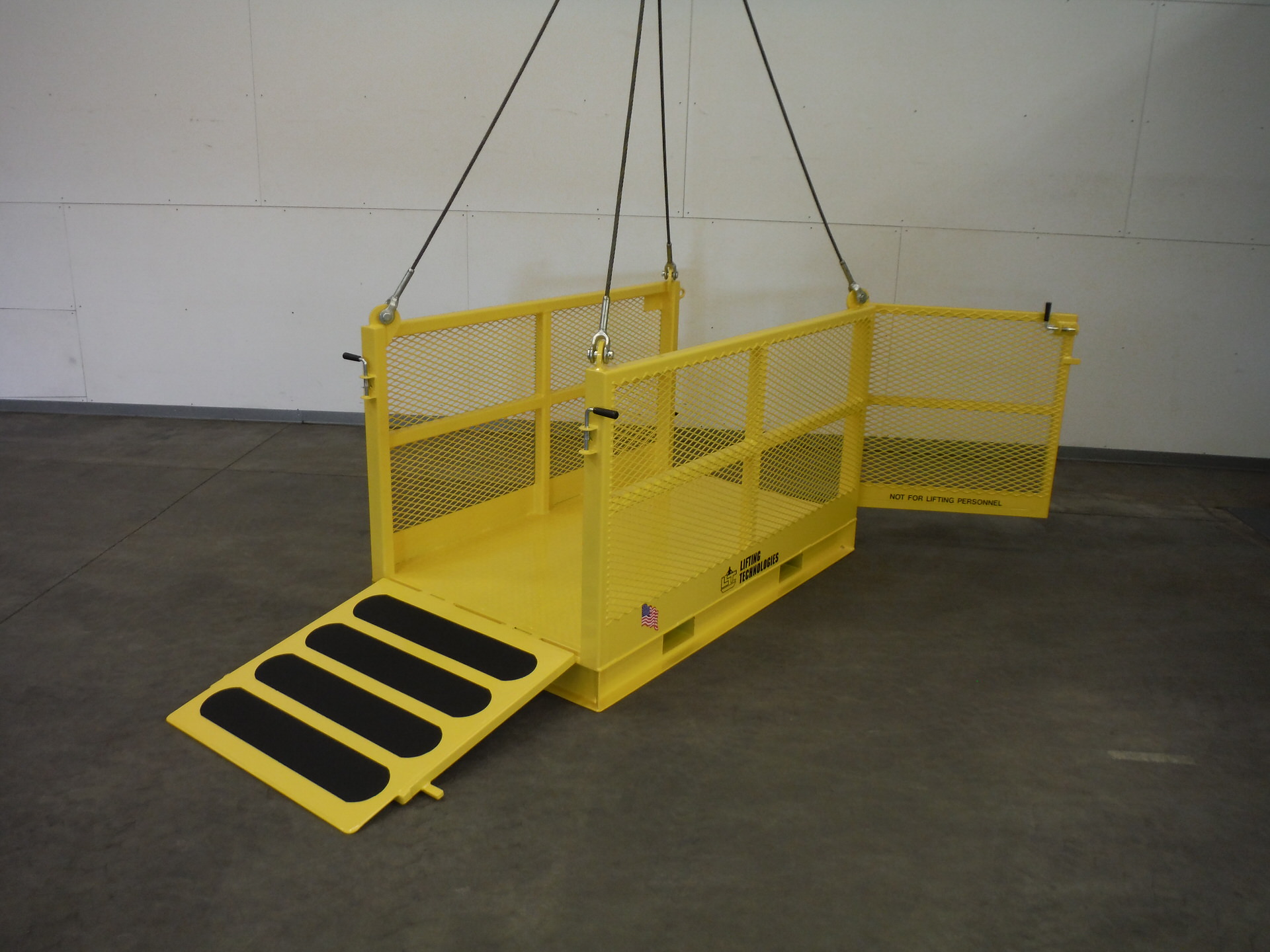 Custom Single Pick Forklift Basket
Dimensions: 40" x 36" x 36" high, 1000 lb capacity. Single pick with skids
underneath to move platform with a forklift. Has a 1/2 gate and 1/2 ramp
on one side.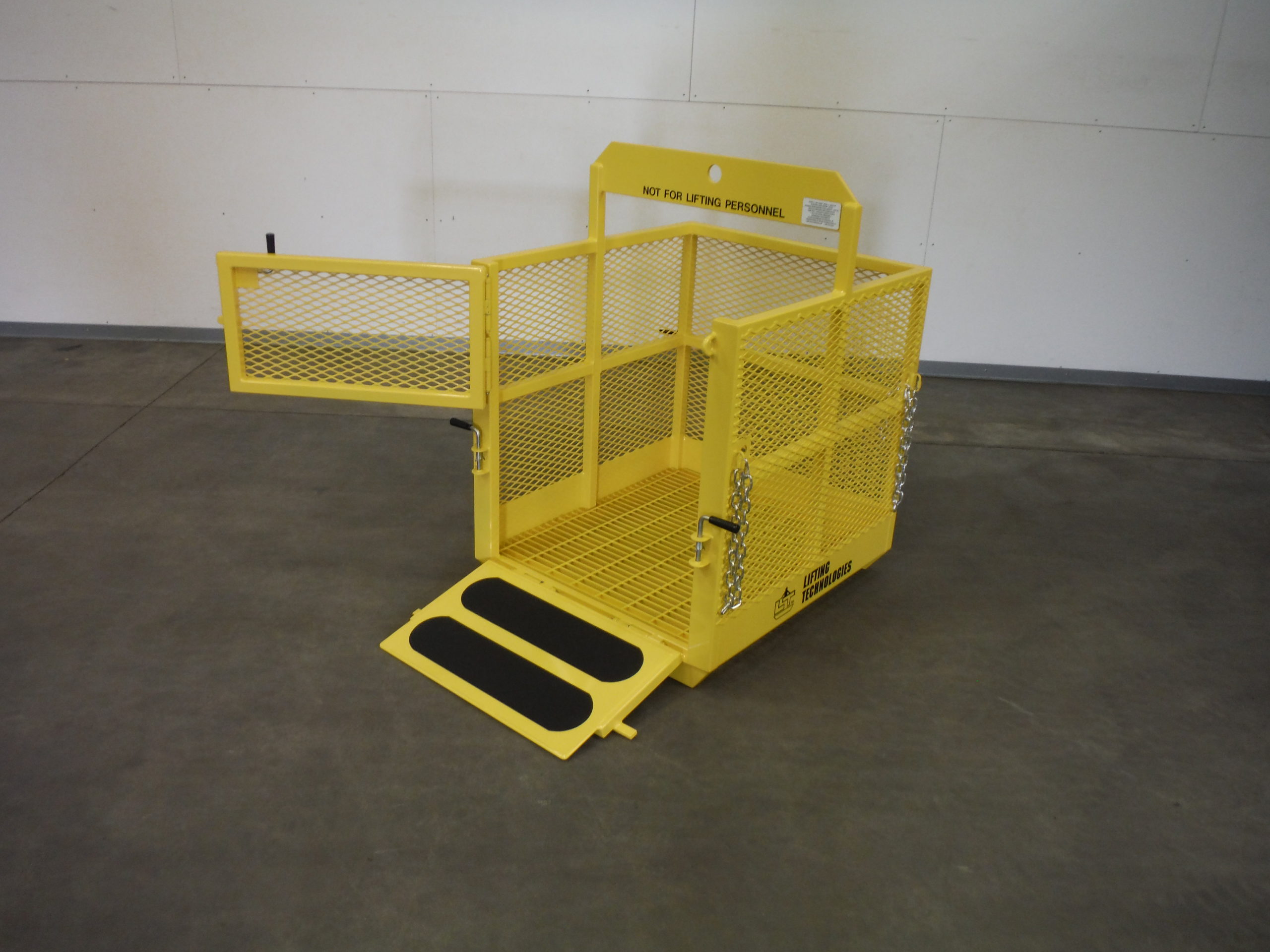 Custom Single Pick Platform for Forklift
This platform is a single pick with skids underneath to move platform with a forklift. Has a 1/2 gate and 1/2 ramp on one side.
Dimensions: 40" x 36" x 36"
1000 lb capacity
Model: MB-1000SP 062012M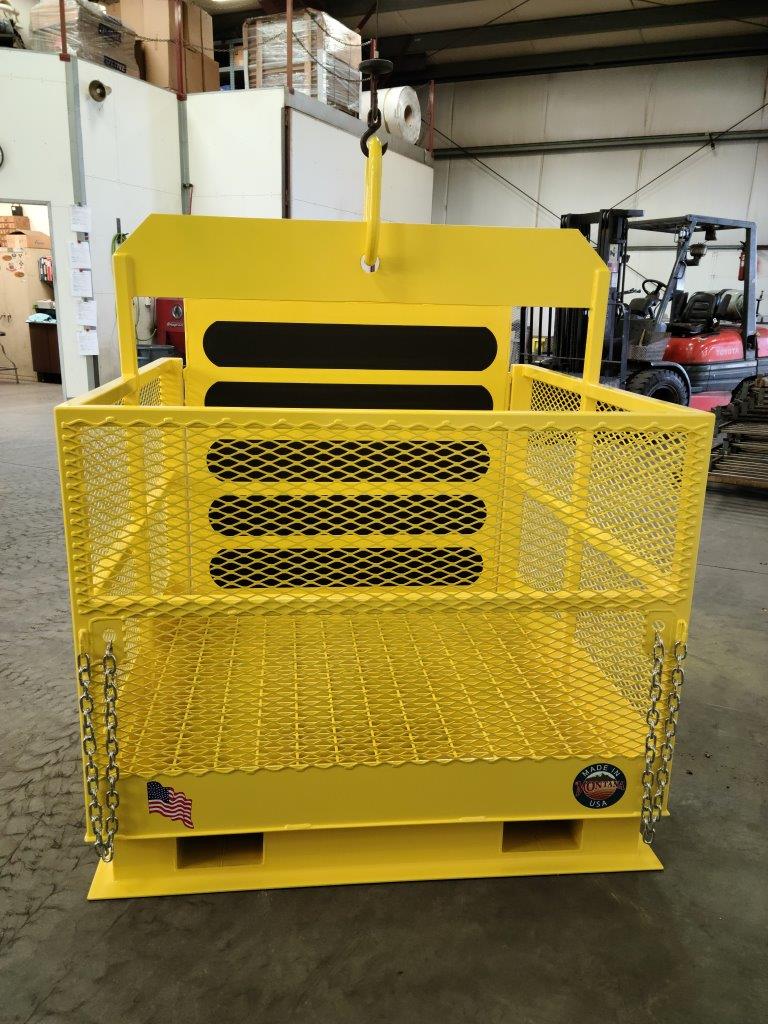 Custom Single Pick with Ramp for Forklift or Crane
Single pick with a masterlink for hoisting with a crane. It also has fork pockets for moving around on the ground. It has a ramp with non skid tape.
Dimensions: 53"x52"x36
2,000 lb capacity.
Model: MB-2000SP 072020M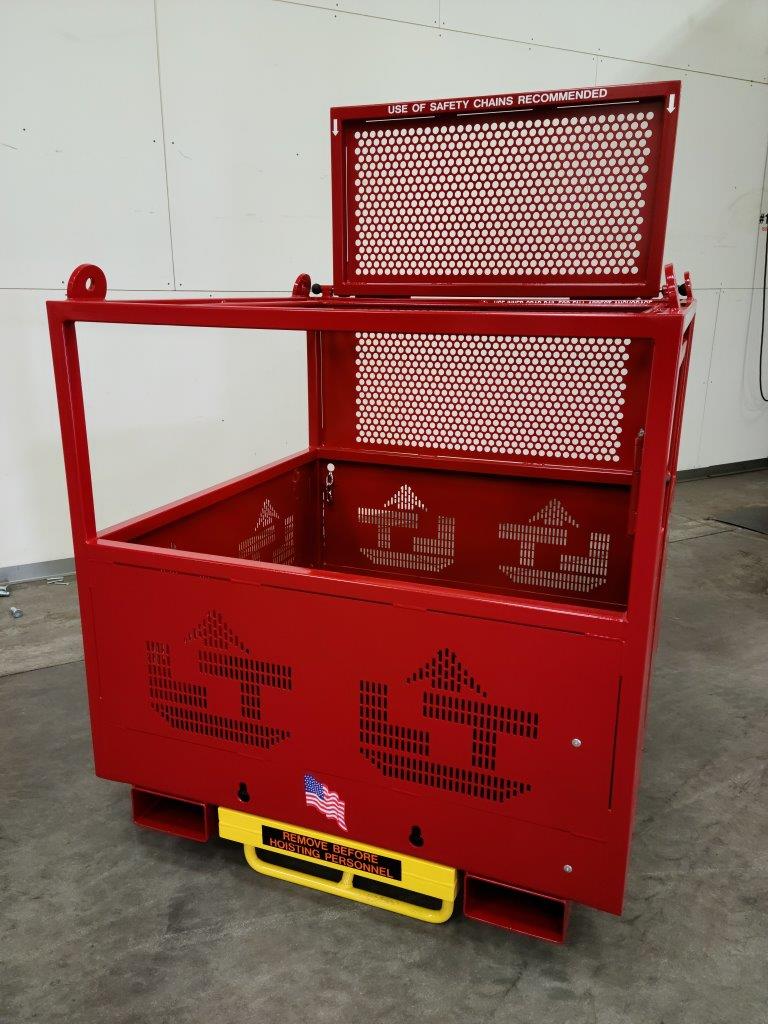 Forklift Basket
This 2 man platform is unique due to the fact that it is a personnel platform that can be used with a forklift or crane. This platform has tubes with a pin system to attach to forklift and a sling for the crane. The mast for use when being used by a forklift folds down when being used by a crane.
Man: 2
Dimensions: 48" x 48"
750 lb capacity
Model: SECFL2-750WA EC0820312