OSHA Regulations for Forklift Man Baskets
What is considered a forklift mounted man basket?
OSHA considers forklift work platforms as removable attachments.
USA Standard B56.1-1969, Safety Standard for Powered Industrial Trucks Part II, 405 Nameplates and Markings (G) states, [o]n every removable attachment (excluding fork extensions), the attachment manufacturers shall install a durable corrosion-resistant nameplate, with the following information legibly and permanently inscribed: Serial number, Weight of Attachment, Capacity or Rated Capacity of attachment.
How do you know if your forklift man basket is OSHA and ANSI/ITSDF compliant?
An OSHA-compliant man basket must meet certain ANSI specifications. ANSI takes into consideration the overall design, weight load, and safety requirements.
ANSI's B56.1 code has numerous requirements on the construction of a forklift platform, including:
The man basket must clearly indicate load-bearing capacity on the basket. The combined weight of the platform, load, and personnel is not to exceed one-half of the capacity as indicated on the nameplate of the truck on which the platform is used.
Man baskets must be surrounded by a guard rail, that way that platform provides protection for personnel in their normal working position on the platform from moving parts of the truck that represent a hazard.
Floor requirements including a slip-resistant floor surface and minimum floor space for each occupant.
Fall restraint means such as a guard rail and/or a personal fall protection system.
A width that is no greater than the overall width of the truck (measured across the load-bearing tires) plus 10 in on either side.
Means to securely attach the platform to the lifting carriage or forks.
Each and every Lifting Technologies forklift man basket meets and exceeds the requirements for OSHA and ANSI/ITSDF safety standards. Our forklift personnel platforms also come with our unique Quick Claw® Safety System for additional safety in your attachment to the forklift.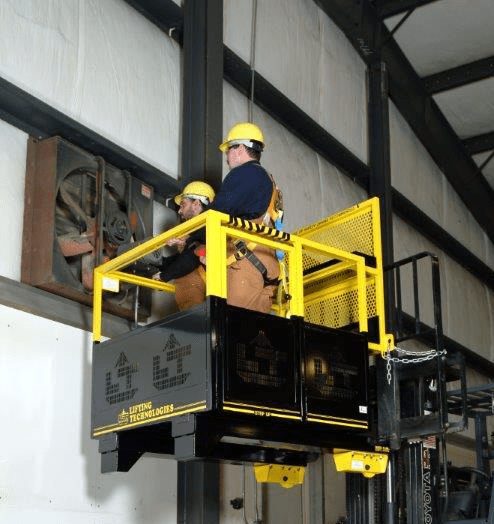 Request your Use and Safety Handbook