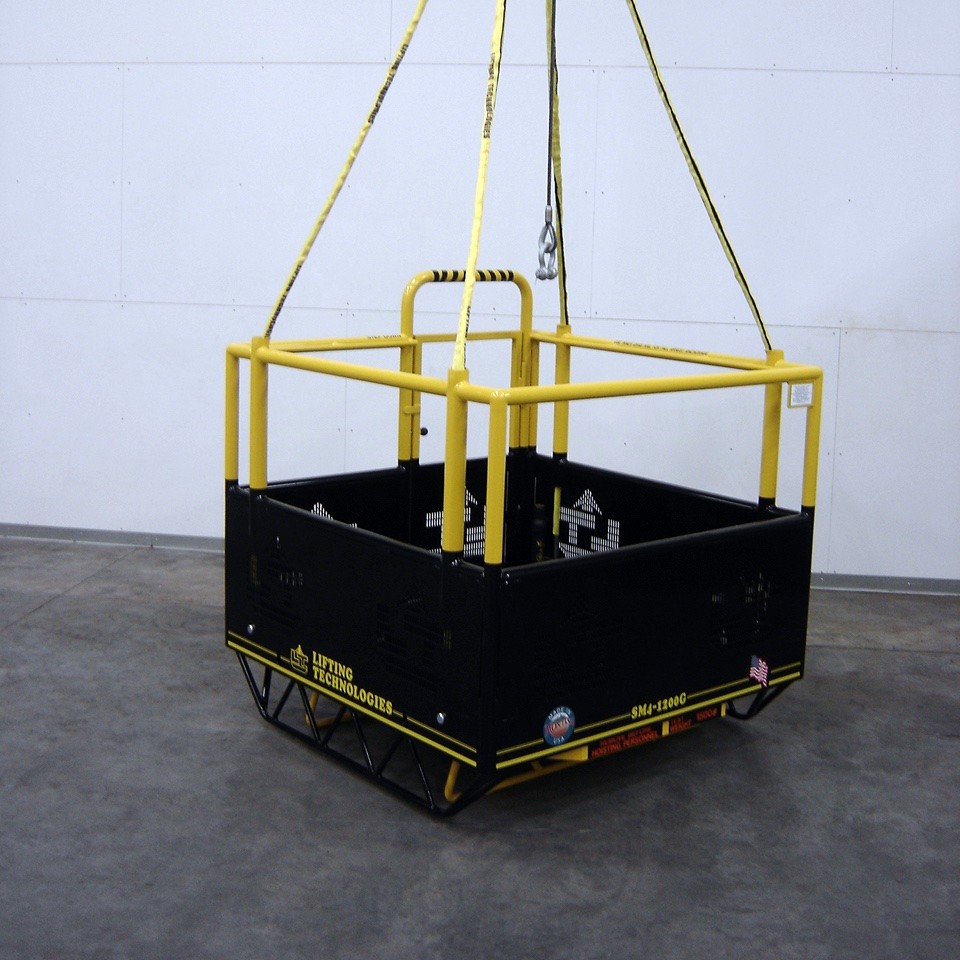 Safety Standard for Crane-Suspended Man Baskets
Each crane man basket sold through Lifting Technologies comes with an OSHA Certificate of Compliance and our unique detachable Test Weight System, ensuring maximum safety below the hook and full compliance with OSHA.
We offer Premier, Professional, Rescue, and custom crane-suspended baskets of almost any shape and size.
Lifting Technologies' famous yellow and black Premier Series man baskets are available in a range of sizes including round, square, and rectangular configurations with overhead and non-overhead options. They provide employees the security of high-strength steel round tubing construction and our unique detachable Test Weight System.
All man baskets are sold as a "turn-key" package and come equipped with LT's unique test weight system, sling assembly, and training DVD.
Premier Crane Man Basket Features
Features include:
Dedicated base-attached suspension system which minimizes platform tipping and provides even load distribution

Electrostatic powder coat finish that provides high resistance to impact, abrasions, chemicals, and corrosion. (Available in our standard safety yellow and black or choose a custom color of your own as an additional option)

Unique easy-on/easy-off detachable

test weight system

Heavy-gauge steel frame and floor grating to provide solid platform support

High-strength 0.140" and 0.145" wall, 1.660" and 1.900" O.D. steel round tubing frame.

Braced truss skid system to keep platform floor off of the ground.

Four-leg sling assembly suspension system of 1/2" 6x36 IWRC wire rope, secured to a master link, and attached to platform base by swage sockets and safety threaded clevis pins. Also included is the fifth leg for tie-off to loadline above overhaul ball.

Sides enclosed with perforated steel plate from toe-board to mid-rail

42" high guard rail and grab Grab rail inside entire perimeter providing personal fall arrest anchorage in compliance with OSHA, part 1926.502, subpart M

Optional access gate, with positive restraining device

Optional overhead protection, with perforated steel skylights, 6' 7" above the platform floor

Heavy-duty plastic data plates provide unit weight, maximum rated load capacity, maximum occupancy, test weight, and serial number

A three-year manufacturer's warranty

AWS certified welding procedures performed by certified welders

Use and Safety Handbook and  training DVD explaining OSHA rule

Certificate of OSHA compliance provided with each platform in documentation tube.
Download the product brochure
Request a quote for a Premier Crane Man Basket.
Learn More About Our Custom Crane Man Baskets
Explore our custom-made Crane-Suspended Man Basket models.
Crane Man Basket Dimensions
Round Man Baskets
 
DIAMETER (In)
MAX RATED LOAD CAPACITY (Lbs)
TEST WEIGHT (Lbs)
BASKET WEIGHT (Lbs)
ROUND MODELS
RM2-600G/38
38
600
750
355
RM3-900G/48
48
900
1125
430
RM4-1200G/60
60
1200
1500
560
Round Man Baskets With Overhead Protection
 
DIAMETER (In)
MAX RATED LOAD CAPACITY (Lbs)
TEST WEIGHT (Lbs)
BASKET WEIGHT (Lbs)
ROUND MODELS
RM1-250S/26
26
250
313
355
RM1-300S/26
26
300
375
355
RM1-250S/32
32
250
313
380
RM1-300S/32
32
300
375
380
RM2-600S/38
38
600
750
435
RM3-900S/48
48
900
1125
525
RM4-1200S/60
60
1200
1500
710
Man baskets have a 42" guardrail height from the floor and overhead models have a 79" inside height from the floor to overhead frame. All dimensions are outside dimensions. The rated load capacity of all models may be increased. Lifting Technologies welcomes inquiries for custom-designed platforms of almost any size or shape.