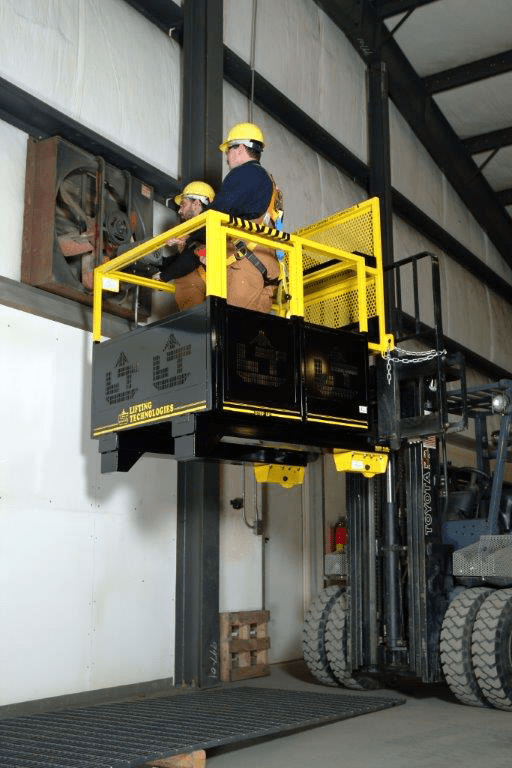 High Quality Forklift Mounted Man Baskets
Lifting Technologies forklift work platforms provide the ultimate in functional safety and confidence for personnel aloft. Built to support their own weight plus five times their maximum load, our forklift-mounted man baskets have a reputation for both strength, quality, and durability. 
Featuring Lifting Technologies' unique Quick Claw® Safety System, our platforms meet or exceed all OSHA/ANSI rules for mast guard protection, guardrail, inner grab rail, personal fall arrest system anchorage, and attachment to the forklift.
Built of 0.120" wall, 1.500" square tubular steel, our premier series Forklift-Mounted Man baskets are strong, long-lasting, and completely compliant. All series come with an electrostatic powder coat finish and our unique Quick Claw® Safety System
Premier Series Man Baskets
Features include:
Electrostatic powder coat finish that provides high resistance to impact, abrasions, chemicals, and corrosion. Available in our standard yellow or choose a custom color of your own as an additional option.

Quick Claw® Safety System (or optional pin system)

Perforated steel mast guard and logo-panel enclosures

6" high toe-board

42" high guardrail and full-perimeter inner grab rail providing personal fall arrest anchorage in compliance with OSHA, part 1926.502, subpart M

Locking access gate (optional)

Security chains for securing to forklift

A three-year manufacturer's warranty

Certification of OSHA/ANSI compliance provided with each platform in documentation tube

Use and Safety Handbook
Download the product brochure
Request a quote for a Premier Forklift Man Basket.
Learn More About Our Forklift Man Baskets
Explore our custom-made Forklift Man Basket models.
Premier Forklift Man Basket Dimensions
All dimensions are outside dimensions. The rated load capacity of all models may be increased. Access gates are available on most models. Lifting Technologies welcomes inquiries for custom-designed platforms of almost any size or shape.
*Man baskets have a 42" guardrail height from the floor and 62" mastguard protection height from the floor. California models have 84" height of mastguard protection. For ANSI compliance, model width cannot exceed 10" on each side of the forklift tire width.
**There is variation in model weight depending on forklift specifications given by the customer. The combined weight of platform, load, and personnel not to exceed 1/2 of the capacity of the forklift.